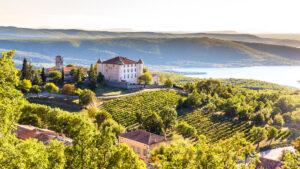 Suhashini was nowhere to be seen! 
Latika checked where the other Class 11 girls were sitting, but could not find her. The seniors had arrived by the first bus. Latika, along with her Class 10 mates, had arrived later by the second bus. 
Tradition at the Shailabala Girls' High School dictated that Class 10 students organized a farewell picnic for their Class 11 seniors before their matriculation exams. A mangrove on the banks of the Mahanadi river was chosen as the picnic spot on Christmas. The Class 11 students would break for preparatory holidays, so this was the last chance to meet them before their February exams. 
Suhashini was Latika's favourite senior. She would help Latika with Mathematics and Physics. Spending hours at Suhashini's house, Latika would first get help in studies and then the two would have long chats. Over time, they had built an unbreakable bond of friendship. For Latika, this was also a welcome break from her big joint family, where her older cousin Deepak's brilliance was always the topic of discussion, much to her annoyance.
The cooks had set up makeshift chullahs with boulders. Latika led a group of girls in search of firewood, twigs and dried leaves to fire the chullah up. The senior girls, being the esteemed guests, were busy playing cards and Ludo, while the host juniors assisted the cooks. The aroma of the mutton curry was arousing the girls' hunger. A batch of fried papads were distributed, signaling that lunch was nearly ready. The girls started settling down. Latika had, by then, checked with all her seniors but found no information on Suhashini. The cooks were ready to serve food. 
Finding all the girls seated, the Principal picked this opportunity, to deliver her speech. "The Shailabala Girls college had always delivered great results in the matriculation exams and I expect no less from this batch of 1965…" 
Latika wasn't listening – hunger and Suhashini is what her mind was processing. 
The Principal, with years of practice in force-feeding long speeches to unreceptive, inattentive audiences, went on unfazed – "Like previous years… school.. excellence. .. 'Best 10 in Odisha'."
Latika was praying silently for the torture to end, when her attention was grabbed by what she heard. 
"…..uhashini, who I believe will make us proud with her results. Suhashini's wedding has been fixed after the examinations. Join me in wishing…"
The girls started whispering. "That's why Suhashini didn't turn up. She must be feeling awkward", remarked another girl to Latika.
While happy for Suhashini, Latika was also sad at the prospect of losing her friend to marriage. When she finally arrived home, her mother hounded her about the picnic details. Latika said, "Ma, Suhasinidi is getting married after the exams."
Her mother smirked and said, "Arrey haan, she is going to marry none other than your cousin Deepak. She will come to live with us." 
Latika was the happiest person on earth. 
Glossary
Chullah – Cooking stove
Arrey haan – Oh yes
***
Photo By: Pexels
This is an entry for Five00-9, #Vintage. Find all the entries here: https://writers.artoonsinn.com/category/five00/five00-9/
Join ArtoonsInn Room8 on Facebook: https://www.facebook.com/groups/WritersAndReadersRoom/